A.B.NE. Inc. Services and Sells Air Structures and components commonly referred to as "Bubbles or Domes."
We have been in business since 1993. We also are the only New England Company that is fully insured and certified for service
and installations specific to the Air Structure Industry.
We are able to provide the following services:
1.) Sales and installation of new or replacement Air Structures.
2.) Consultation / Supervision for the inflation of a new or existing Air Structure.
3.) Consultation / Supervision for the deflation and proper storage of an existing Air Structures.
4.) Service and Repairs, including Annual or Biennial inspections. ( see NFPA 102. 6.4.2)
5.) Installation of Energy Efficient T85 FLourescent fixtures and Metalhalide Hanglite™ lighting systems
6.) Turnkey projects; A.B.NE. Inc. can assist and consult on a project from start to finish; satisfying a more complete and
efficient Air Structure project.
7.) Estimates and Field assesments for Insurance claims
We are fully insured and classified to do Air Structure Sales & Service. Fourteen years of experience with Air Structures, can provide you with an excellent resource for sales and service and consulting. If there is anything we can help
you with at this time please contact us at the numbers listed above. Thank you for your time and consideration.
Sincerely,
David Getchell,
*Some manufacturers and their installers are not. Please be sure to see proper classification of/on their policy to insure that you are covered!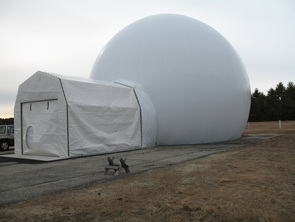 Radome at secure site. Attached is a Fiberglass
framed Air-lock, Designed and Built by A.B.NE. Inc.



---